Traversers as individual or standard solution
SKM designs, develops and optimizes transfer platforms for the production of AAC, sand lime bricks, stoneware and for refractory materials.
Transfer platforms or sliding platforms are an invaluable tool for maintaining material flow in your factory. We have a long track record of delivering transfer tables for the use in several industries, as autoclave platforms, transfer platforms bringing curing cars into the heating chamber as well as turntables or traversers in sand lime brick industry transporting pressed bricks or hardened bricks.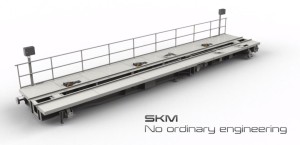 We can upgrade existing plants, built extensions or supply completely new developments. Our scope of supply normally comprises the electric control, coating, documentation, assembling and commissioning up to the final performance test. Once the customer operates the transfer platform, we can assist with a variety of services.
Our transfer platform can be equipped with several transport possibilities mounted on the platform, i.e. wheel drives or crocodile. They are supplied
for the positioning: automatic or manual,
with a length of two, three, six, twelve meters or even longer and
with devices for exact positioning.
The sliding platforms can carry heavy weights. On customer's request, we supply the traverser with switch cabinet mounted on the transfer platform or beside the transfer platform.The cabinet is operated with an operating panel for parameter setting and fault message.
We offer solutions for the following industries:
AAC production
Sand lime brick production
Production of stoneware
Production of refractory materials
Plants producing concrete or precast concrete elements