Experienced in stand-alone maschines
W

e provide

all our experience

in the design and

production of AAC machines and components

for the manufacture of AAC blocks, AAC wall panels, floor and roof panels and AAC lintels.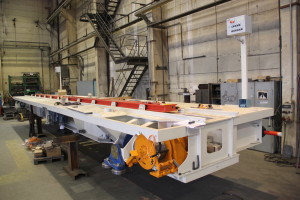 We have proven our extensive engineering expertise especially in the field of aerated concrete production plants in recent years.
We offer machinery and components to partial solutions in the fields of raw materials, mixing process, cubing, reinforcement production and curing and export. This can either replace existing equipment under maintenance / repairs or improve your existing investment in parts.
We can provide you with the following AAC block making machines and AAC equipment:
Sand Ball Mill, Slurry Tanks with integrated Stirrers, Mould Oiling Machine, Mixing Tower, Transfer Table, Transfer Table in the Rising Section, Tilting Crane, Cutting Line (including pre-cutting-plant with tongue and groove profiling station, longitudinal cutting plant and cross cutting plant with recessed grip mill), Autoclaves, Autoclave Crane, Curing Plate Cross Feeder, Seperating Machine, Unloading Crane (Block Transfer Device), Packaging.