Machinery for your AAC Factory
We develop tailor-made technical solutions depending entirely on the specific requirements of the customers. These solutions account for all relevant factors, such as the quality of raw materials, location, available space, production quantities, and level of investment.
Our machines are sturdy and reliable – created to budget and on schedule. They are constantly doing their job to manufacture AAC blocks and panels in a consistent quality – from the mixing and dosing, the fermentation process, the cutting, autoclaving until the packaging of the finished products.
Sand Processing and Storage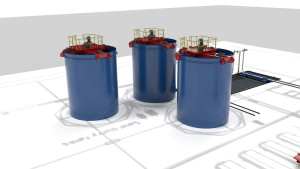 Design and engineering of raw material processing including pumps, sand ball mills, slurry tanks with integrated stirrers and other material handling equiment
Assembly and commissioning of these components
Control system
Dosing and Mixing System
Design and engineering of the complete mixing tower
including silos, scales, screw-conveyors and agitators
Assembly and commissioning of these components
Control system
Circulation of Hardening Plates and Moulds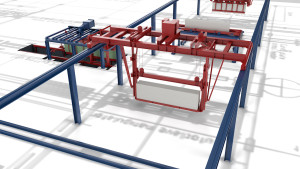 Design and engineering of the circulation system
Transport manipulators (tilting crane, autoclave crane, unloading crane, reinforcement crane for panel production)
Transfer tables
friction-wheel drives
Moulds, hardening plates and curing cars
Mould cleaning, mould oiling
Cleaning of hardening plates
Track systems with friction-wheel drive
Control system
Cutting Line

Design and engineering of the cutting line including pre-cutting plant, longitudinal cutting plant, tongue and groove profiling station, grip hole mill
Transportation of green broke to the return slurry tank including stirrers
Control system
Controls of the Autoclaves
Design and assembly of new controls
Packaging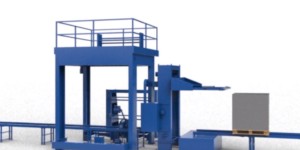 Design and assembly of new plants including machines for packaging with stretch foil or shrinkage foil, labelling printer and dispensers, inkjet printers
Control system
Option 1 (Finishing of AAC wall panels, floor and roof panels and other reinforced elements / lintels)
Consultancy and design of reinforcement machinery
Straighteners and cutting machine for wire bars
Mesh welding machines
Mesh cage welding machine
Cross bars and needles
Control system
Option 2 (Finishing of AAC wall panels, floor and roof panels and other reinforced elements / lintels)
Consulting and design of finishing centers
Automatic sawing lines
Control system
Option 3: (Finishing AAC blocks)
Consultancy and design of finishing centers for U-blocks and lintels
Automatic sawing lines for U-blocks and lintels
Control system